Best General Physician in Jaipur - Dr. Radhey Shyam Gupta
Many lost their loved ones due to the global pandemic (Covid19). Before covid19, people were very careless about their health and even many consider it not primarily necessary. But the Covid19 Pandemic has taught us that for survival our health is the supreme shield to fight against any circumstances and for that no comprises should occur. After the pandemic, healthcare now become a primacy to most, even the minor signs of sickness receive care. From an itchy throat to a mild cough or a spike in temperature, many rushes to clinics to seek care from the Top General Physician in Jaipur.
If you have no prior knowledge of the term General physician, you may wonder what is the meaning of general physician? This is a perfectly valid question to have and it should comfort you to know that you have possibly attended a general physician doctor in your lifetime.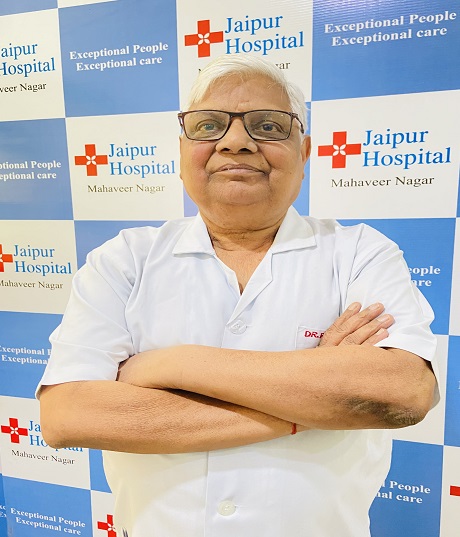 Who are Called General Physicians?
Simply put, a general physician is a primary care provider, and usually, you can say a patient's first medical point of contact. When you are sick, even with the mildest symptoms, or simply need a professional opinion on wellbeing, general physician doctors are who you normally visit. 
They are highly trained and educated doctors who provide a range of non-surgical health care to all aged patients. They provide care for patients who have complicated, serious, or unusual medical problems, and they continue to see the patient until the problems are resolved. They are also qualified to deal with the social and psychological consequences of the disease.
The majority of their work is done with hospitalised patients, but most general practitioners also see patients in their consulting rooms.
What Is the Qualification of a General Physician?
A general physician holds an MBBS as well as a postgraduate (MD) degree in general medicine.
What Does a General Physician Do?
A general physician has a long list of duties because he/she is the first point of contact for most patients. As such, these are a few aspects that the Best General Physician in Jaipur do:
Diagnose conditions and injuries.
Conduct routine check-ups.
Recommend medical tests for further diagnosis.
Assess a patient's condition and review medical history.
Prescribe medication and treatment.
Assist in routine surgery.
Counsel patients on wellbeing and proper self-care.
Uphold patient records for optimal preventive care.
What makes a General Physician special? 
The extraordinary combination of knowledge, training and skills distinguishes general physicians from other medical specialists and general practitioners who restrict their medical practice to problems involving simply one body system or to a specific area of medical knowledge. Through a strict and extensive training program, the best general physicians are:
broadly educated to handle the entire range of the patient's medical problems.
thorough, logical and scientific in their approach to providing an expert diagnosis.
capable of assessing and wisely selecting drugs and other medical therapies to prevent and treat disease capable of caring for patients as whole people, not just body systems.
When You Should Meet the Best General Physician in Jaipur
When you are going through the below-mentioned changes in your health conditions then you should immediately consult with General Physicians. A few conditions include:-
If You have a Persistent High fever.
If your cold becomes unusually bad.
If you are experiencing chest, abdominal, or pelvic pain.
If your Bowel movements or urination changed.
If you have any symptoms after the use of medication or have any surgery.
Pre- and Post-operative Assessment by General Physicians :
General physicians are often asked to review patients before surgery. They advise surgeons of a patient's risk status and can propose reasonable surveillance to minimise the risk of the operation. They can also help with post-operative care as well as ongoing medical issues or complications.
Why Choose Jaipur Hospital for the Best General Physician in Jaipur?
Jaipur Hospital has a team of the Best general physician in Jaipur who is experienced in handling all medical issues in emergency and non-emergency situations. In the modern health scenario, it is necessary to listen to the patient's problems, obtain an excellent medical history, and administer a thorough clinical examination of the patient.
Our team of highly specialised general physicians approach every clinical problem with accuracy and, if necessary, discuss clinical issues with the right specialists to offer our patients the best care. If you are looking for a general physician doctor in Jaipur who can be your warrior for you to keep healthy then blindly go with a general physician of Jaipur Hospital. 
Jaipur hospital provides the best general physicians in Jaipur. Contact the Jaipur hospital for general physicians as our doctors. In addition to practising general medicine, each of them is enthusiastic in a specialist field. Jointly with our specialists, we deliver extensive patient care and widespread patient advice about your illness and your treatment plan.
Dr Radhey Shyam Gupta is a trained physician along the lines of the old-fashioned 'Family Doctor'. His emphasis on early, accurate diagnosis; appropriate medicines; and clear patient communication, sets him apart as one of the most trusted physicians in Jaipur, Rajasthan. He has over 40 years of experience in this industry. 
He is also a gold medalist holder in MD. He positively believes that a good majority of problems can be managed without any complications or going for surgery. Dr Radhe Shyam believes in providing the best, most compassionate care to his patients. He is the best general physician in Jaipur.
A general physician is the family doctor most of us are familiar with. They are often referred to as "general practitioners" because they coordinate our health care. In general, a general physician specializes in family medicine. General physician doctors can provide care, prevention, and treatment of disorders and diseases regardless of age, gender, or type of problem. Occasionally the general physician can sew a small wound, open a small abscess or remove a wart. A general physician is an excellent place to start if you have a collection of unusual symptoms, such as those associated with new or rare diseases, and for this, Jaipur Hospital is the most dependable hospital that provides you with a world-class General Physician.